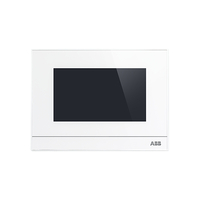 Touch panels 4,3" and 7"
4,3" Touch Panel with Room Thermostat and 7" Touch Panel for both free@home and Welcome.
Both needs extra power source e.g. CP-D24/0.42 or 83300-500, M2300 or M2301.

For ABB-free@home® and ABB-Welcome®. For the central control of up to 16 configurable free@home® functions and display of the video image of an outdoor door communication station. During the conversation a picture of the visitor can be taken and stored in the picture memory. For door calls during absence three pictures of the visitor are automatically stored in the picture memory. With hands-free function, volume is adjustable. Easy operation keys for door openers, mute function and light. Different bell sounds are adjustable for door and floor ringing; five polyphone bell sounds are available. Volume of bell sounds is adjustable. SD card slot for extension of the picture memory. Suitable as room temperature controller extension unit (up to 8). For surface mounting. The bus can be connected via enclosed terminal block. Display size: 17.8 cm (7'') Display resolution: 800 x 480 Display elements: TFT Touch Display Protection class (Device): IP 30 Dimensions: (L x W x D): 155 mm x 218 mm x 29 mm Programming only with bus voltage applied via the web interface of the System Access Point. Additional information about commissioning and operation is contained in the system manual and the online operating manual of the current e-catalogue.